getting to the island
Matiatia is a 35 minute ferry ride from the Queens Warf in Auckland's CBD. A short bus trip (no1) from the wharf at Matiatia to Tui street will set you at the bottom of Mako and the studio is a 5 minute walk up the road.
You are welcome to make an appointment to visit if you are planning to come to the island.
Weekends - please call ahead - I may well be gardening or down at the beach :)
Weekdays - you should find me in studio during usual opening times
Text or call ahead (022) 048 2680
shoe news @ "the shoemakers shed"

facebook page
I am also available for consultations and fittings in Auckland (Nelson and Wellington) from time to time. Appointments for such a meeting can be made in advance to fit in with my schedule, please enquire if this works better for you.
SHOE CARE & REPAIR SERVICES
The more often you nourish your leather bags and shoes, the finer the leather will become. Beeswax OR lanolin polishes feed the fibres and give the leathers a richer hue.
Shoe care kit $65 - in a handy leather case, 2 tins polish, 2 brushes and a buffer.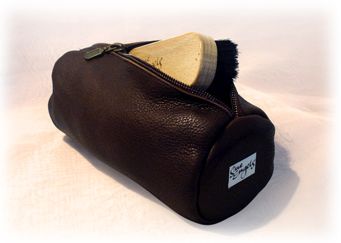 nourishment & care
Beeswax leather dressing $10
Renovating shoe polishes $10
Horsehair brushes $10 each or 2 for $15
Non-aerosol spray protection for suedes nubucks and most leathers!
FEND : $15 per 50ml or $45 per 250ml
BOOT SHAPERS $25 a pair
SHOE TREES POA
Repair your shoes before your soles and heels are wrecked and keep them out of our precious oceans!
Quality leather and rubber soles can be repaired here, no PVC.
Unsure if they are fixable? you are most welcome to bring them by for advice. If I can't attend to your repair, I will send them to the city specialists, Gemmels and have them back on the island in around 3 to 4 weeks.
Luggage, Bag and Belt repairs are welcome too!
Simply pop by my studio or give me a call
here's rough price guide
Rubber stick on half soles & heels
$45 pr each or $85 for both
Shoe & bootleg stretching from $20- $30 pr
Rubber vibram sole unit replacements from $90
Rebuilding stacked heels POA
Re-glueing sports soles from $50
W O F - Have your shoes re-soled & heeled, spritzed and polished from $95
Shoes, Boots or Bags - Clean and polish from $25
Replacing buckles, straps on bags etc from $25
Zip replacements $75